Approximately 25% of the U.S. population lives in a community association, more commonly known as a homeowner's association or HOA. According to the Community Association Institute, these homeowners pay more than $96 billion annually in assessments.
Attorney Barry A. Ross, JD, aims to educate people about some of the major pitfalls in a community association based on the real cases he handled. He is the author of the new book, Are You the King or Queen or Your Castle? Not If You Live in a Homeowner's Association (2023, Indie Books International).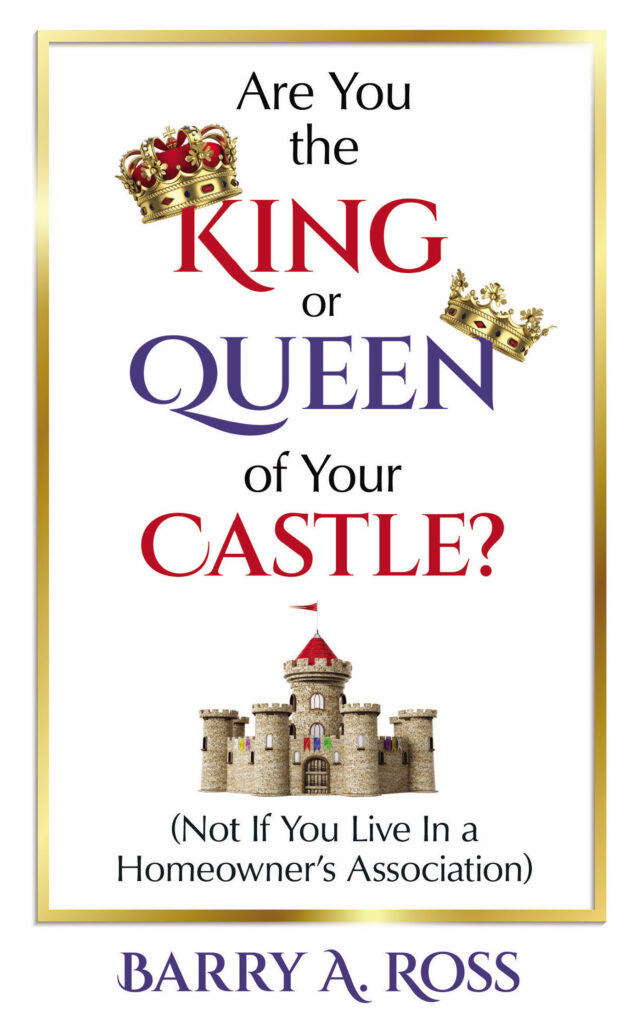 "Many homeowners have a love-hate relationship with their community association," says Ross. "Though the association provides useful services to the neighborhood, there is a downside in the form of rules and regulations that can feel arbitrary or pointless."
Ross has practiced real estate and community association law for 50 years in California. During his career, Ross has participated in more than 100 jury and non-jury trials, more than 50 arbitrations and mediations, and 20 appeals to the California Court of Appeal, including the landmark case of Cabrera v. Alam (2011) 197 Cal. App. 4th 1077 involving the applicability of the Strategic Lawsuit Against Public Participation (freedom of speech) to a community association.
As an attorney, Ross has focused on community association law. He primarily represents homeowners and business owners against their community associations.
Homeowners, community association managers, real estate agents, and attorneys will find the collection of stories in this book both educational and entertaining.
The book covers such questions as:
Why am I not the king of my castle in an HOA?
What to do when a neighbor harasses your family?
Can you be sued for making a recommendation?
Why are some people more equal than others?
Does free speech apply at HOA board elections?
Why property owners must continually monitor the architectural review process?
"One issue covered in the book is that many people complain about the management and operation of the board of directors of their community association," says Ross. "Beyond simply complaining, how does a property owner cause a change in the board of directors?"
In the book Ross explains there are basically two ways to accomplish this change.
The first way concerns the next scheduled election of the board of directors. The property owner can seek to have a new slate of directors elected through the association's normal election process. Sometimes this process is not effective because of the time between elections, the staggered terms of directors, the association's election rules, or incumbent misconduct regarding the election, making it difficult for new persons to join the board of directors.
The second way concerns a recall election. The book includes a story of a particular recall election and the ramifications.
Ross has published many articles for attorneys and non-attorneys on community association laws. He has been a guest speaker on various community association topics before many different groups of attorneys, including the Orange County Bar Association and the San Diego Bar Association.
Ross has served as an expert witness on community association practices and procedures to trial attorneys in more than ten community association court cases.
Ross received a Bachelor of Arts degree in psychology from UCLA in 1970. He received a Juris Doctorate from Loyola University School of Law in Los Angeles in 1973. Ross was admitted to the California Bar in 1973.