SAN DIEGO, Sept. 8, 2016 /PRNewswire/ — Johan Otter's life changed in a fraction of a second the day he and his 18-year-old daughter Jenna Otter were attacked by a grizzly bear while hiking in Glacier National Park.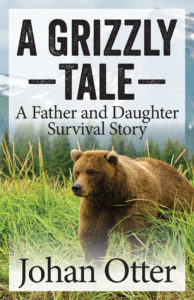 Johan Otter has chronicled his tale of survival, family and triumph in the face of trauma in his new book "A Grizzly Tale: A Father and Daughter Survival Story" (Indie Books International, 2016).
Johan and Jenna Otter, while celebrating her high school graduation with a hiking trip, were in the wrong place at the wrong time on August 25, 2005. While rounding a bend on a trail, they came face-to-face with a 400-pound mother grizzly and her two cubs.
"Here we were, on an upward sloping leg of Grinnell Glacier Trail, rock cliffs on the right, a vertical drop on the left, and a grizzly bear in my left thigh," he recalled.
During the attack he distracted the bear's attention from his injured daughter, a move which nearly cost him his life. Along with a broken neck, fractured vertebrae, and broken ribs, he lost about 70 percent of his scalp during the attack.
The story of the attack and their recovery received national media attention. He has spoken to organizations large and small about the importance of staying positive after trauma, the realities of the patient experience, and the circumstances that would drive a parent of offer his own life to protect a child without a second thought.
"To me, the gift of a second life demands that I share what I've learned," he says. "I do so, in part, by speaking publicly about what happened to Jenna and me."
Johan Otter grew up in the Netherlands and came to the United States in 1984 to work as a physical therapist. Now senior director of Occupational Health and Wellness at Scripps Health in San Diego, he endured nine surgeries over three years to repair the damage and reconstruct his face and eye socket. His daughter, who suffered a broken back, went on to graduate from UC Irvine and medical school at Columbia University.
He has spoken at trade-shows for manufacturers of medical devices, impressing on audiences the importance of telling the patient what to expect. He often speaks to medical audiences, expressing to them how to make the medical experience less stressful for patients without spending more, and possibly even spending less.