SAN DIEGO, Nov. 16, 2016 /PRNewswire/ — The holidays are a traditional time for families to discuss if it is time to put a relative in a nursing home. They soon discover that when it comes to eldercare, there is no such thing as being safe at home.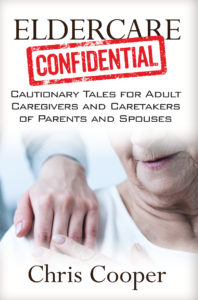 "Selecting the right environment for an elderly person to live is a series of tough decisions that a caregiver or caretaker must negotiate," says Chris Cooper, author of the candid new guide "Eldercare Confidential: Cautionary Tales for Adult Caregivers and Caretakers of Parents and Spouses" (Indie Books International, 2016).
Cooper is a California Licensed Professional Fiduciary who works with seniors, disabled persons, and other individuals who can't manage their affairs on their own, assisting with everything from day-today financial issues to investment and estate management.
"Caregivers and caretakers are often thrust into the role of fiduciary, either by legal appointment or by assuming the role because of their relationship to the elderly person who needs caretaking," says Cooper. "The duties are more than a moral responsibility, they are also a legal obligation."
Here are nine tips from the book to guide you in evaluating potential nursing homes:
The best time to tour a nursing home is on a Saturday evening. Because administrative and marketing staff won't be around at that time, you'll get a truer picture of what life is really like at the facility.
Make sure you visit when a meal is being served. You'll get a chance to see the quality (and quantity) of food firsthand. Make sure every resident gets enough to eat and that staff are available to help those who need assistance.
Find out how often the nursing home brings in nurses from a staffing agency. It's not unusual or a bad thing for a nursing home to occasionally have to turn to an agency to shore up its staff—after all, you want an adequate number of medical personnel on hand at all times. But if the nursing home is always bringing in new staff who aren't familiar with the facility or the patients, that could result in a lower quality of care for your loved one.
Consider long-term care. Medicare offers very limited coverage for nursing home stays. That's why many people purchase long-term-care insurance or set aside money so they can pay for care out of their own pocket.
Consistency of caregivers matters. In some facilities, a patient's caregivers may change from day to day. That can be unsettling and confusing for patients. Try to find a nursing home where the same caregiver sees the patient on most days.
You need to be proactive to make sure your loved one gets the care they need. Often, it helps to designate a single family member to serve as the representative who will take charge of the patient's care and deal with the nursing home.
Your loved one probably won't be able to choose their doctor. Instead, they'll be limited to whatever doctor(s) work with the nursing home. The facility's doctor may also be responsible for numerous patients. Nursing home doctors may visit the facility just once a week to make quick visits with patients.
You should make your family member's room feel as much like home as possible. Bring personal objects and pictures so the place is familiar and comforting to them.
Theft can be a problem. If your loved one has valuable items (like jewelry) make sure that they aren't left out anywhere where they could easily disappear. If possible, mark valuable items with your loved one's name.
Cooper advises it is important to check with Medicare, Medicaid, and any private insurance provider to find out their current rules about covering the costs of long-term care.
When thinking about nursing home costs, keep in mind that you can have extra out-of-pocket charges for some supplies or personal care—for instance, hair appointments, laundry, and services that are outside routine care. The rules about programs and benefits for nursing homes can change. Visit www.medicare.gov for information about different care options. To learn more about the Medicaid program, see www.medicaid.gov.
Cooper is a passionate advocate for those trying to meet the crushing costs of medical care. More tips are available on his website www.chriscooper.com.